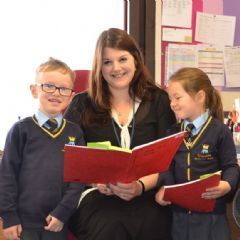 Welcome to Kingstone and Thruxton Primary School!
During the past few years, I've had the pleasure and a privilege of being Head of Kingstone and Thruxton Primary School. Our school is a vibrant, friendly and caring place to learn, work and thrive, with the children at the heart of all we do.
As an inclusive school, we are passionate about meeting all children's needs, both emotionally and academically; as a whole school community we provide an engaging and imaginative curriculum that opens windows and minds into an inviting world, rich in relevance and opportunity. We have high expectations of what we can and should achieve, whilst ensuring school is a place where every child thrives and is nurtured and supported to be the best they can be, to enjoy school and develop a love of learning. Our learning environment that is designed to engage and excite and as continuous learners ourselves, we are constantly striving to improve this even further. Our focus on developing a lifelong love of learning is strongly underpinned by rigorous attention to the development of essential basic skills.
We are proud to be part of the Kingstone Academy Trust and the children benefit greatly from the close links we have with Kingstone High School, including specialist teaching and access to fantastic resources. They love working with older students, who are great role models and ambassadors for the High School.
I hope that your visit to our website gives you a flavour of what life is like at Kingstone; on these pages, you'll find out about our latest news and details of upcoming events, information about clubs and class projects, copies of letters home, details of projects and much more! If you haven't already, I'd love to welcome you for a visit so that you can experience the very special atmosphere for yourselves.
If you would like to speak to me about anything relating to school or your child, please don't hesitate to contact me via the school office or catch me at the school gate in the mornings.
Elissa Vigus
Follow us on Twitter at https://twitter.com/KandTPrimary