Welcome to the Year 2 Blog!
Welcome to Year 2!
Year 2 is a wonderful class of 27 eager children who try their best in all they do! Please use our Class Blog to follow our day-to-day activities and find information about the class and the school.
You can find out about the following things on our blog:
The things we have been getting up to at school and at home.
We will update our blog every week to ensure that you can see what we have been getting up to and find information about any upcoming events.
Mrs Gemmell
WB 17.1.22
Our text this week is Where the Wild Things Are by Maurice Sendak
WB 10.1.22
We have had a wonderful week. The children have written some very effective pieces of work all about feelings. They have been learning to read maps and completed an orienteering course in the school playground. In gymnastics the children were working hard to improve their balance and in math the children have been exploring number families and recording on a part-part whole model. Our text this week was 'Counting on Katherine'.
WB 3.1.22
In Year 2 this week we are looking at 2 books, the first is, 'In my heart: a book of feelings' by Jo Witek and the second is 'The Snail and the Whale' by Julia Donaldson.
Autumn 2
You Me and Family
WB 6th December
This week we have been completing lots of Christmas crafts as well as looking back at our writing from the past term to pick out our favourite pieces.
We have worked really hard on narrative writing this week and have impressed Mrs Gemmell with our use of adverbs, alliteration and repetition for effect. In science we worked very carefully as we gathered evidence to help answer the question - ' Which material would make the best cloth to mop up spills. We enjoyed making our Christingles and walking to the church for a whole school service.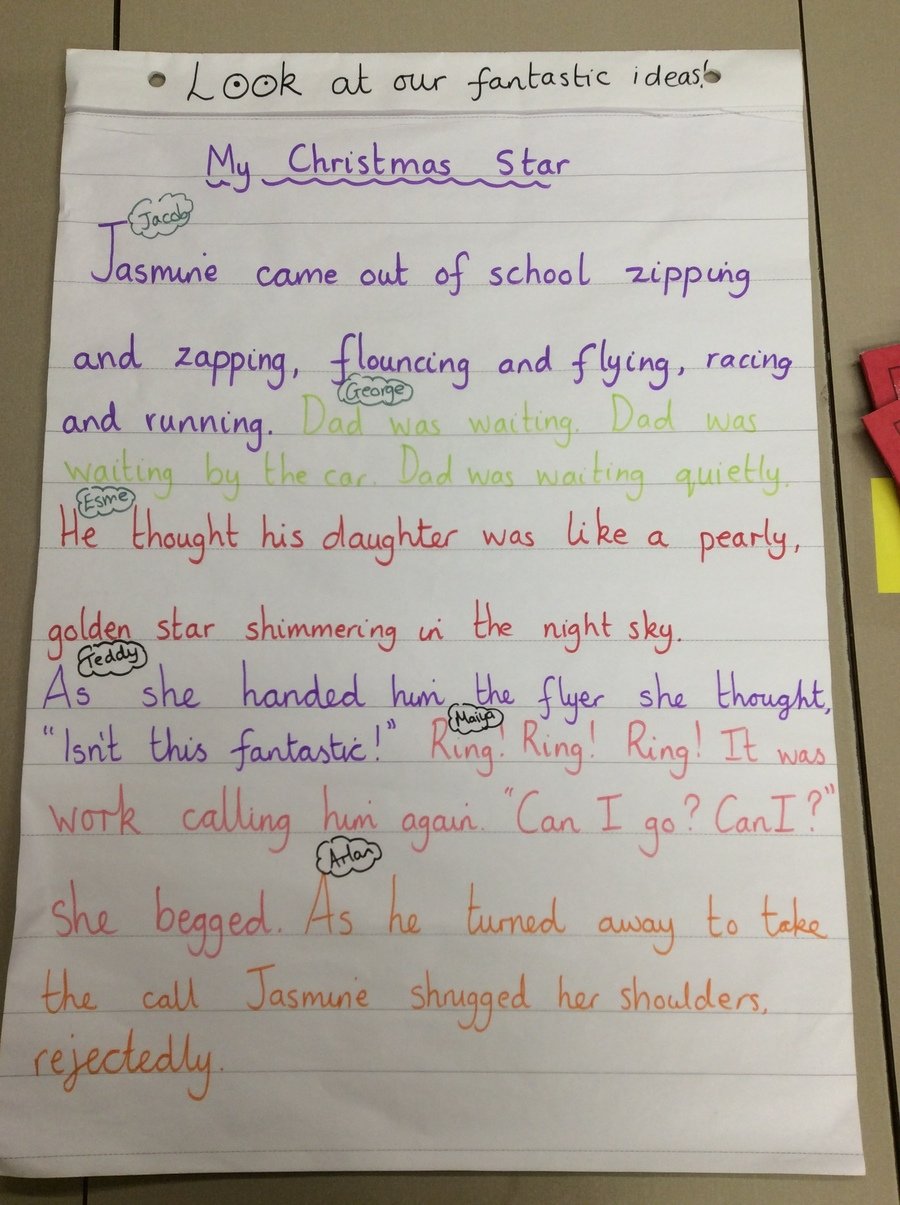 WB 22nd November
Mrs Gemmell was really impressed with our independent writing skills this week, as we wrote instructions for hand washing and also how to make bird feeders. The glorious sound of singing was heard in our class as we learnt songs for the christingle service and for our e-nativity. We loved buying new books at the book sale this week and also choosing our first library book ready to take home for the weekend.
WB 15th November
What a week! Year 2 were very excited on Tuesday as JOSH GOWLING the manager of Hereford football club came along to join in with their football skills session. He was really impressed with the skill and positive attitude shown by all the children.
In dance we explored the Hindu festival of Diwali. Working in pairs and then in groups we made up our own dance routines.
Collecting and exploring the shapes of different leaves then making detailed sketches.
Exploring properties of 2D and 3D shapes
WB 18th October
This week Mrs Gemmell has been really pleased with how well we have been working together as a team and with our partners in maths, english and PE.
WB 11th October
In computing this week we learnt how to make up our own algorithms to guide our blindfolded partners around a course, that we designed. In science we dug up flowers from a pot and spent time investigating how many plants parts we could identify. In maths we have been recalling our number bonds to 10 and learning how to jump along a number line to help with the addition of 3 numbers.
WB 4th October
In forest school this week we learnt how to gather and then whittle our own hazel sticks. We have been continuing our learning about Kenya and wrote our own fact sheets. We used our artistic skills to paint pictures inspired by the Kenyan landscape. We have had fun sharing our class reading books with each other.
Our Class story is 'The Magic Faraway Tree' written by Enid Blyton
This week's text is Fly, Freddy, Fly! Written by Melanie Joyce and illustrated by Julia Seal
This week some children have been working at school, whilst others have been online learning at home. Mrs Gemmell has been so proud of all the children and how well they have focussed on the tasks set. The children have been thinking about friendships and what they like about their friends. In English the children have bene writing paragraphs for a letter all about themselves; there were some fabulous adjectives used. The gallery this week showcases some of the work children have been doing whilst learning from home.
This week's text is Sharing Shell by Julia Donaldson
WB 20th September
This week the children have been working hard in maths, partitioning and recombining tens and ones to make numbers. They have used a variety of resources to represent 2 digit numbers. In English they have been gathering ideas ready for writing letters next week. In forest school the children cooked their own apples over the campfire.
Working with our Maths Buddy
Collecting and cooking apples in Forest School
WB 13th September 2021
The children have worked really hard this week, learning to be independent in their work. They have discovered that worms are brown in colour so that they are less likely to be eaten by worms! In Literacy the children have been finding out about the features of a letter, after receiving post from the queen.
This week we will be reading My Monster and Me by Nadiya Hussain.
It is a touching story about a little boy whose worry monster follows him everywhere he goes. It's there when he gets dressed, when he wants to play with his toys, ..
Over the next 2 weeks we will also be using the book 'This is how we do it', by Matt Lamothe as inspiration for our written work.
In Japan, Kei plays Freeze Tag, while in Uganda, Daphine likes to jump rope. While the way they play may differ, the shared rhythm of their days—and this one world we all share—unites them.

This genuine exchange provides a window into traditions that may be different from our own as well as mirrors reflecting our common experiences. Inspired by his own travels, Matt Lamonthe transports readers across the globe and back with this luminous and thoughtful picture book.
WB 6th September 2021
The children in year 2 have had a wonderful week catching up with friends and settling into a new classroom. They have used the story 'Worrysaurus' as a stimulus to talk about things that may worry them at school and what can be done to help. In science the children explored the school grounds to look for signs of summer turning to autumn. In maths we have looked at days of the week and months of the year and studied our weekly timetable. In Forest School this week the children were challenged to build a den to keep them dry - it was even put to the test when a watering can of water was poured over the top!
The class book this week is : The Worrysaurus by Rachel Bright