Welcome to the Year 5 Blog!

HAPPY HALF TERM!
Have a lovely, lovely half term! Stay safe and well and I will see you all in a week. I can't wait to start our new topics!
Mrs Preece
As the class begin to make the transition from Lower Key Stage Two to Upper Key Stage Two, you can follow their activities and fun on our new Class Blog.
On our Year 5 blog you can find out about:
Our blog will be updated weekly to show the super things we have been doing and to help you find out about things that are coming up.
Don't forget to wear your PE kit to school on a Friday!
Week commencing 19th October 2020
Getting creative in PE
We found a gentle way to warm up for our hockey session today - It was also a good excuse to do some singing!
Rainforest Information Pages
As our rainforest topic comes to an end, we have been reflecting on all that we have learnt. We decided to record all of our learning on an information page.
Today we had chance to enjoy some fun in Forest School. We played in the mud kitchen, built dens and created wooden models; we loved every second!
Week commencing 12th October 2020
Today as part of our RE topic, we visited Kingstone Church. Reverend Hillary and Geri welcomed us and we shared our sign language with them. Reverend Hillary showed us how to sign the Lord's Prayer. We also got a bag of goodies to take home so that we can take part in 'Messy Church.'
The link to follow to make the crafts is: https://www.youtube.com/watch?v=2wtHxh5mfLg
We love getting out and about in our local community and enjoyed spotting the signs of Autumn as we walked across the fields.
We have been busy completing our DT projects. They are linked to our topic of rainforests and have levers which enable our animals to move. We thought carefully about the aesthetics to ensure the final product looked good.
Week commencing 5th October 2020
Google Maps
We had great fun in Geography yesterday using Google Maps to understand the layout of Kingstone village. We are comparing the settlement of Kingstone to the Amazon. We have found a huge list of differences and surprisingly, a couple of similarities.
Today in PE we warmed-up by doing some team-building activities. These required us to work together and think up lots of different plans.
We have been creating our own cartoons to question different maths concepts. Who do you agree with and why?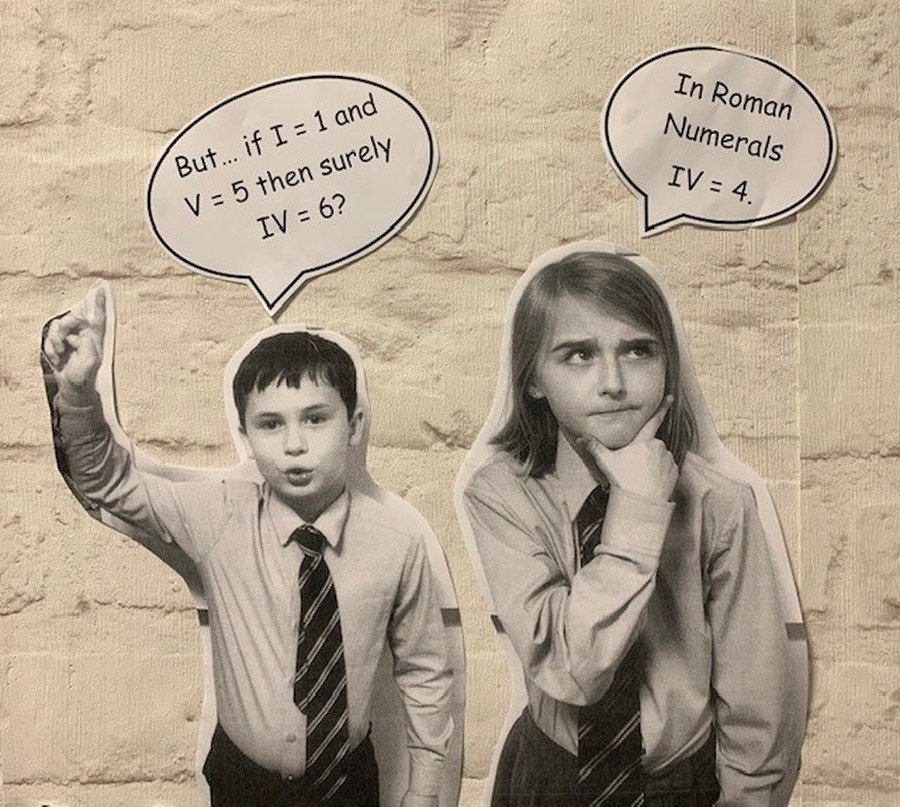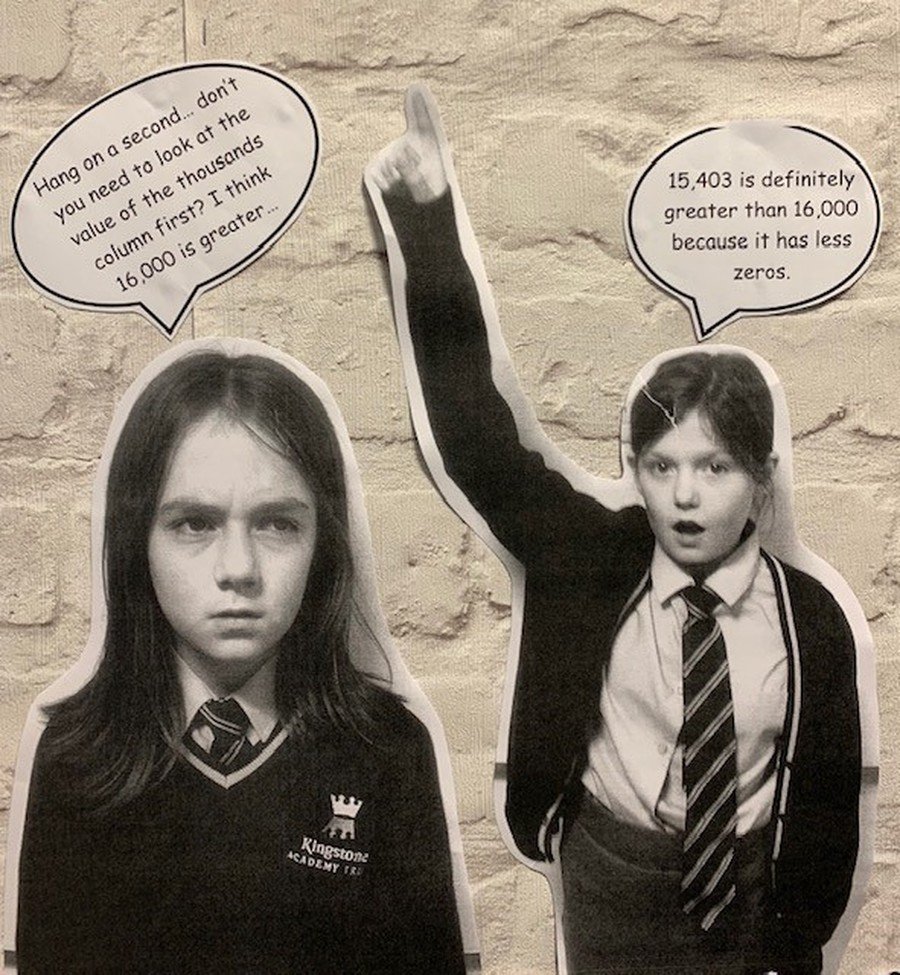 Watch out there are Romans about! This week we have been learning Roman numerals in maths. We went outside to learn a song which has helped us to remember them.
Week commencing 28th September 2020
Apple Pressing...
Today we had the most wonderful time apple pressing. We were determined that the rain wouldn't stop our fun so we got dressed up for the weather and collected some apples from the orchard. We then scratted the apples in a special machine before pressing them in an apple press. We all tried some apple juice and agreed it was delicious!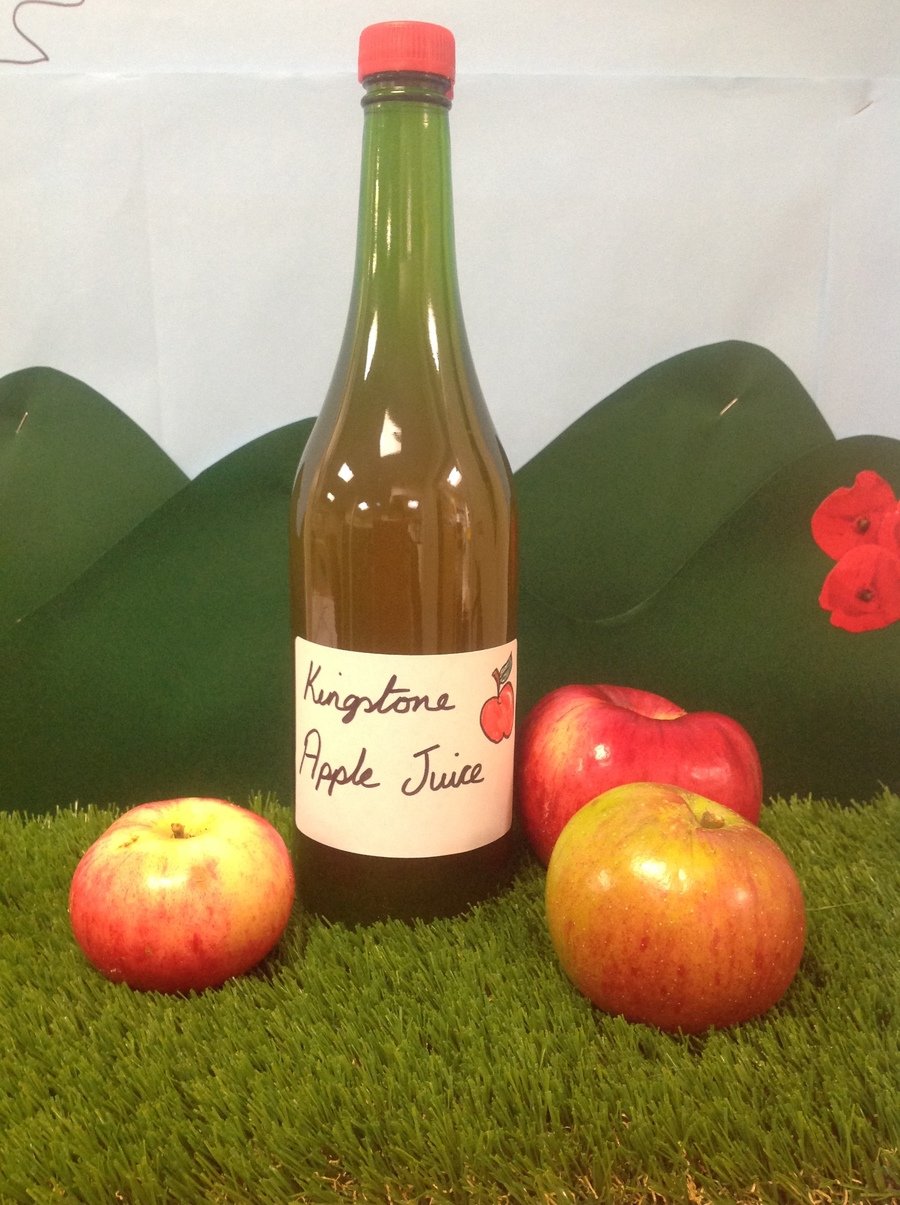 Rainforest animal writing...
Our writing has been linked to our topic of rainforests and our science topic of animals. We have been designing our own mythical rainforest animals and writing descriptions of them. Here we are working hard...
PE in the school orchard...
In PE, we have been enjoying team games in our lovely school orchard. We have been building our teamwork skills and have worked together to solve problems. Here we are playing 'Capture the Flag.'
Week commencing 21st September 2020
A habitat hunt across the fields...
Today we made the most of the sunshine and set off on a habitat hunt across the fields. Our Science topic is all about animals and their life cycles. We have been learning about micro and macro habitats and we found examples of both!
Our wonderful writing...
This week we are really proud of our writing. We wrote narratives, using the short clip, 'Titanium, as our stimulus. The children also added art to their pieces to make their work look really appealing.
Week commencing 14th September 2020
The class bank...
This week, our class bank has been up and running. By reading regularly at home, children earn themselves credit that they pay in to the class bank. Credit can be exchanged for a variety of rewards. The bank balances are manages by the class bank managers.
Blackberry picking in the orchard...
We are thoroughly enjoying our class book, 'The Explorer.' The children, Con, Max, Fred and Lila are stranded in the rainforest. Their plane crashed but luckily they all survived and were uninjured. Lila and Max were in the way to visit their Granny. We decided to write to Granny to let her know why Max and Lila hadn't arrived. We picked blackberries to write our letters with - it was unlikely that they would have had proper writing utensils in the rainforest. We had our breaktime in the orchard too and enjoyed swinging in the trees and spotting some friendly sheep.